SELECTION
GIANNI COLOMBO
The Body and the Space 1959-1980
Robilant + Voena, London
2nd October – 20th November 2015
Exhibition curated and monograph edited by Francesca Pola and Marco Scotini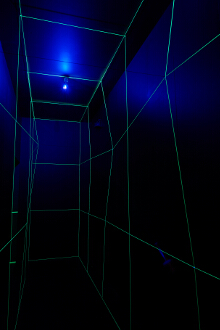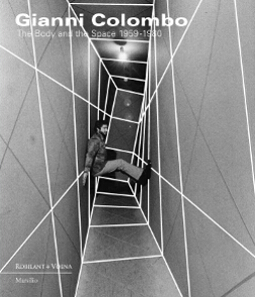 Gianni Colombo liked to define his works as "estesie" ("esthesias"): spaces that were both physical and psychic, in which to perceive a direct experience of our relations with the world, created to make us reflect on the conventionality of our most common actions (seeing, touching, walking) and free us of our acquired conditioning. Since the end of the 1950s, he created works conceived as activators of unusual situations, and spaces planned as places of non-conformist behaviour. Every work by Colombo is characterised by coordinates of basic relationships which, despite being absolutely immediate, are never obvious but always unexpected. The dimension that crops up regularly in his work, which has always been conceived in direct and close relation with he who experiences it, is that of astonishment. An astonishment that is not produced by artificial, spectacular or scenographic machinations, but by the very simplicity of his projects. It is this meaningful simplicity that produces an immediate empathy with every object or space he created, which through our body become spaces for a direct and unexpected experience of our coordinates of relating to reality.
Colombo's work today is at the centre of widespread and growing international interest. This interest is primarily motivated by the progressive and inevitable recognition of the importance and quality of his creative achievement in a historical sense. However, it is undeniable that such recognition must necessarily be corroborated by being able to regard Colombo's work as a fruitful and vital source of present and future developments, confirming the persistent topicality of his oeuvre for the new creative generation with regard to the elements of environment, performance, participation and social relations characterising his work. (…) Although his place among the masters of international kinetic art is undisputed, the importance of Colombo's creative achievements cannot be attributed solely to that movement and period, but must be understood in terms of a broader vision of radical and topical redefinition of the very coordinates of experience and significance of making art. (…)
It was in this way that between the 1950s and 1960s, Colombo's highly-personal kinetic or, better, "kine–esthesia" was born; characterised by a dimension of tactility, corporeity and the physical and deliberately committed use by the viewer, who constitutes the fulcrum of the artist's creative interests. And on the other hand, the constant challenge and spatial ambition that from the mid-1960s was already leading him to the creation of his first immersive spaces: planned as basic estranging situations in order to trigger unusual processes of reflection, reaction and behaviour. In both cases, the artist's goal was the same: to create objects and environments that were instruments for a progressive emancipation from our conventions of relationship with the world, making us think through the body. Colombo saw movement (of the object, the environment, the body that perceives and walks through them) as a space for thought and acquisition of freedom: he sought to position us constantly in a state of total perceptiveness that could be called "pedagogical immersion", to make us aware players of our future.

From F. Pola, The Unexpected Space, in Gianni Colombo. The Body and the Space 1959-1980, monograph published on the occasion of the exhibition, Robilant + Voena, London, October 2 – November 20, 2015, Marsilio, Venice.
BONALUMI. SCULPTURES
Mazzoleni Galleria d'Arte, Torino 

30th October 2014 – 31st January 2015
Mazzoleni Art, London
6th February – 4th April 2015
Exhibition curated and monograph edited by Francesca Pola 

in collaboration with Archivio Bonalumi, Milano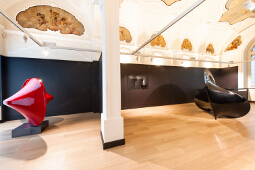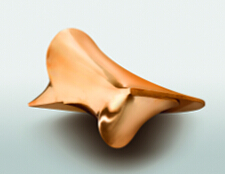 During the last decades the work by Agostino Bonalumi has enjoyed increased interest on the part of the international public that has finally consecrated him as one of the great artist of the Italian and European Post-war period, forming part of the indisputable protagonists of the artistic panorama which changed the course of creativity between the close of the 1950s and the opening years of the 1960s. This attention paid to his work within the international context today confirms him as being one of the most coherent and original presences of the latter part of the Italian Post-war period, belonging to an artistic generation which in no uncertain terms posed the decisive question of superseding the subjectivity and self-referential nature of informal art by means of the adoption of a new centrality of work method as the foundation of the artistic operation. This centrality of the factual dimension, constantly exercised in a discourse with an attentive and measured rational vision, constituted the centre of Bonalumi's creative reflection from the first years of his artistic activity. In fact, the central problem of his artistic research was how to 'escape' the risks of the aphasia of an art made up of spontaneous psychologisms, uncontrolled emotivity and instinctive expressiveness in order to instead give body to a "form" capable of translating a new dimension of space. An "articulated" space as a place aware of human action, as a continuous choice and decision aimed at recreating a possibility of action as research: from the initial mixed media experimentations to the invention of his "painting-object", from the sculpture to the environmental work. […]
Bonalumi's sculpture translates that need to form the space that underlies all the spheres of his activity, found as part of his "painting-object", ideated as three-dimensional extension of painting, and as his elaborations of environmental works, practicable as places of total psychophysical experience. In its volcanic and refined variety of colours, materials and configurations, the sculpture was never conceived by Bonalumi as a simple coloured or painted form but as thought that becomes body of space, that captures and translates its physical, luminous and mental tensions in objects that are both complex and immediate, precise and sensual, clear-cut and elusive. Every sculpture by Bonalumi is characterised by this dimension of vibrant and all-involving totality that at one and the same time makes it a space of psychic and physical experience. Here one has the meeting of volumetries and luminosities, of plastic extensions and linear sinuosities, densities and rarefactions with a rhythm that resembles that of breathing: regular and necessary but also free and relaxed. In this always unexpected and surprising exactness lies the most authentic meaning of Bonalumi's sculpture: plastic presence that for decades has 'interrogated', has questioned space in order to return its rhythm and its breathing in the body of a crystalline and persuasive thought.

From F. Pola, "Bonalumi. Sculptures", Numerozeroeditore, Milano 2014
RODOLFO ARICÒ. UNQUIET PAINTING
The Nineties
Gallerie d'Italia – Piazza Scala, Milano
3rd October 2014 – 18th January 2015
Exhibition curated and Monograph edited by Francesca Pola
in collaboration with Archivio Rodolfo Aricò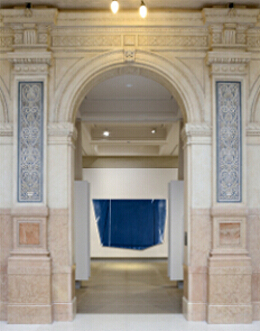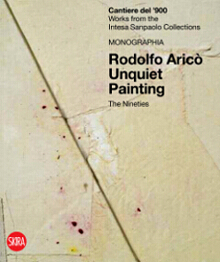 "Not beyond the bounds of the visible but beyond the bounds of the thinkable"
(Rodolfo Aricò)

Pittura inquieta (Unquiet Painting) is the title of a work by Rodolfo Aricò dated 1998 and now in the Intesa Sanpaolo Collection. Poetic and significant, it has been chosen to encapsulate the sense of his work in the last creative period of his life from the late 1980s to his death in 2002. An important stage of a long and complex creative pathway that started back in the late 1950s and saw the artist proceed through the second half of the 20th century, giving birth to his own specific form of painting outside the established coordinates of art on trajectories of an independent and radical nature, with respect to the alternation of trends and movements.
The 1990s were a period of surprising expressive fertility for Aricò, crammed with dazzling insights that pushed the freedom of his relations with painting to the extremes. The pictorial object increasingly took on the pulsating identity of a living body for him, in the daring complexity of its shapes and surfaces as in the unexpected and vibrant lacerations of its chromatic territories. In ever-greater identification with his art, Aricò focused over the last few decades on this critical analysis of painting as a possible image of existence and the world in a state of becoming, of the certainties and gaps of rationality, and of life itself in its flow. Parallel to and interwoven with his works, the 1990s also saw dramatic reflections on the creation of images developed by the author both in a series of theoretical observations and in some extraordinary stories written in the second half of the decade. Fully published on this occasion for the first time ever, these stories shed new and intense light on his life and art with their imaginative and visionary dimension.
The exhibition at the Gallerie d'Italia - Piazza Scala focuses on
the uniqueness and centrality of this expressive period, which has previously received less attention in the context of the artist's rich and extensive creative trajectory. It must be pointed out, however, that
the event is also an opportunity to present a significant part of what can be regarded today as the most important corpus of Aricò's works accessible to the public, namely those in the Intesa Sanpaolo Collection. While the works of the 1990s constitute a major presence in the collection, other creative periods of his career are also extensively documented, including the equally crucial 1970s, during which Aricò explored the complex relations between painting and the archetypes of geometry and architecture in depth. It is to be hoped that this fundamental corpus will provide opportunities for further, exhaustive study and exhibition with a view to ever-greater knowledge of his work.

From F. Pola, "Rodolfo Aricò, Unquiet Painting", Gallerie d'Italia – Piazza Scala, Milano, October 3, 2014 – January 18, 2015, Skira, Milano
PAOLO SCHEGGI
Robilant + Voena, London
1st October – 4th November 2014
Exhibition curated and Monograph edited by Francesca Pola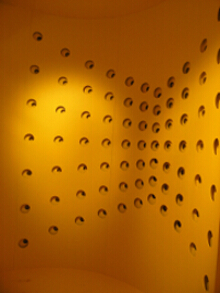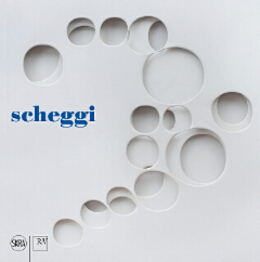 The work of Paolo Scheggi, articulated in a uniqueness of experience that has always made it a problematic and hard-to-categorise alterity, is finally acquiring a new centrality and topicality in the current panorama of studies and artistic interests. The precocious density of his achievements and the searing radicality with which he pursued his objectives offer scope for an analysis able to shed light on poetic origins, historic events and connections, contextual motives, but above all the international dimension of the references and issues that his work immediately acquired. The generational distance enables a new "bringing into perspective" in which the full extent of the current pertinence of Scheggi's work can be evaluated, and in which it is finally possible to acknowledge not only that Scheggi was one of the most precocious and fecund creative minds of his generation, but also that his creations significantly anticipated work produced in subsequent seasons. A protagonist of what was a crucial period for the culture and identity of contemporary Italy, the culminating phase of the postwar economic boom between the 1950s and 60s, Scheggi has always occupied a position of strong independence and alterity: precisely due to his total methodological and poetic originality, which was of a precocious and surprising maturity, his work immediately became one of the problematic nodes with which contemporary critical reflections and readings engaged. But Scheggi's work is not only singular and individuated in this historic perspective, which accompanies his own expression, but also, indeed above all, in relation to the destiny that led to the early death of its author. Like other great protagonists of his generation who also died prematurely, such as Piero Manzoni and Pino Pascali, the course of Scheggi's artistic trajectory lasted for a short, intense season with his achievements unfolding in the brief span of around a decade: in fact, his life was cut short by an incurable illness at just thirty years of age. There is, however, a substantive difference with respect to other artists who have shared his premature fate: his awareness of the inevitability of that destiny, known to the artist and which indeed he almost adopted as a choice, the will to concentrate his practice in order to make it complete and significant in the brief temporal span he had been given. As Franca Scheggi put it very shortly after his death, "the will to experience death as a continued choice of life".

From F. Pola, "Paolo Scheggi", Monograph published on the occasion of the exhibition, Robilant + Voena, London, October 1 – November 4, 2014, Skira - Rizzoli, Milano
UNA VISIONE INTERNAZIONALE
PIERO MANZONI E ALBISOLA

Monograph edited by Francesca Pola Electa, Milano 2013 - Quaderni dell'Archivio Opera Piero Manzoni, Milano 2006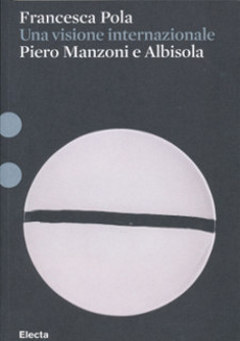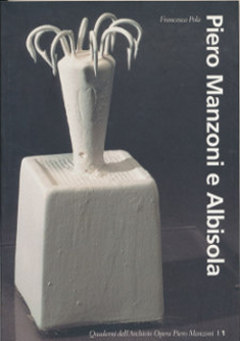 While the historico-critical reconstruction of Piero Manzoni's activity in Albisola may, on the one hand, be related to the period during the 1950s when the Ligurian resort was a meeting-place for some of the leading names on the contemporary artistic scene, it has, on the other, proved to be of great interest due to the special relationship the artist had with this place, offering material and ideas for reflection with regard to the interpretation of the artist's work.
Unlike almost all the other artists who came into contact with the world of ceramics of Albisola, who were fascinated by the expressive potential of this technique, which became for them a new opportunity for experimenting with and developing their artistic language, Manzoni – consistent with the radically different premises of his own line of investigation – sought to address the international element of the artistic milieu in Albisola as a sounding board for his inventions and a possible environment for the promotion and diffusion of his experimental works and those of other artists in his circle. In fact, Albisola was the place where two of his most significant works – the "line" (lines) and the "merda d'artista" (artist's shit) – were presented to the public for the first time, while a number of group exhibitions were held here that were intended to reflect important stages in his dialogue with other artists.
Another preliminary aspect regards the use in Manzoni's "achromes" of an unusual material, kaolin, linked to the production of ceramics: it is likely that the artist first came across this fine white clay in Albisola. The impersonal choice of kaolin confirms Manzoni's lack of interest in the emotional and expressive aspect that was a characteristic of ceramics: this allowed him to relate everything to the tabula rasa of the colourless white, creating a sort of freezing process, through immersion in the neutral liquid, of canvases and other objects. An interesting hypothesis, therefore, is that Manzoni's working procedure was linked to the similar one involving the use of kaolin in ceramics.

From F. Pola, "Piero Manzoni e Albisola", Quaderni dell'Archivio Opera Piero Manzoni 1, Milano 2006
BONALUMI
All the Shapes of Space 1958-1976
Robilant + Voena, London
4th October – 15th November 2013
Exhibition curated and Monograph edited by Francesca Pola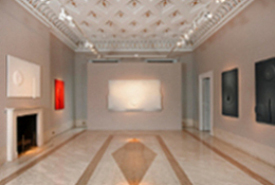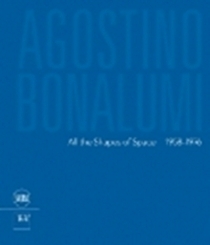 The distinctive feature of the creative path that Agostino Bonalumi has been constantly pursuing and evolving for over half a century lies in what might be termed a certain contradictory "crucial eccentricity". His works have always been constructed patiently and relentlessly, gesture after gesture, as catalysts for the exploration of a human space, understood as energy in constant flux, through a strict adherence to the underlying principles of the evolving culture that they have accompanied. Yet in Bonalumi's output this intrinsic affinity with each successive period of artistic expression has never entailed identifying him with any particular style, language, trend, or movement. Instead, he has invariably endorsed his artistic independence, while knowingly engaging in a constant and fecund dialectic of "interferences" with his evolving contemporary art-historical context.
This book, and the exhibition that occasioned its publication, are the first to examine, according to that broad vision, the germination and early development of this Bonalumi's "lateral centrality", that is the essential definition, specification and evolution of his creative individuality, over the twenty-year period in which he established the research criteria that, today, make him a master of international contemporary art. The intention is certainly not to confine the interest in his work to this period, but rather to begin, from a historical perspective, a detailed and in-depth analysis of the reasons for his importance as an artist. From the period under examination until the present, which still sees Bonalumi as a protagonist, in the past and the present, due to his amazing creative vitality.

From F. Pola, "Agostino Bonalumi. All the Shapes of Space 1958-1976", Monograph published on the occasion of the exhibition, Robilant + Voena, London, October 4 – November 15, 2013, Skira – Rizzoli, Milano
MARIO NIGRO
Werke / Works / Opere 1952-1992
Kunstsammlungen Chemnitz
1st December 2012 – 3rd February 2013
Exhibition curated and Catalogue edited by Ingrid Mӧssinger and Francesca Pola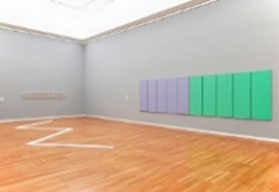 Photo André Koch, Chemnitz
As visitors to the exhibition conceived for the spaces of the Kunstsammlungen Chemnitz can clearly see, what most surprises those who come across the various successive seasons in the work of Mario Nigro is the wealth and consistency of the development in his visual language. This richness emerges as an unexpected pictorial feature in each new cycle, with solutions that are unprecedented in terms of size, composition, colour and space. Even in his variation of expression, this consistency allows us to perceive a fundamental gnosiological idea and a poetic vision of creative and cognitive continuity that remains as an underlying thread throughout his art. For Nigro, this continuity in diversity, this single objective pursued by varying his painting, is a choice of active responsibility for his own artistic work in history. It is the need to remain constantly close to what happens around him in the world, by translating into images what he referred to as "an aesthetic research as the intimate structure of man" in a crucial interview of 1969. This focus on the inner dimension of the human being is never transformed into sterile psychologism or empty intimism, for it is always thought of in civic terms, in the relationships between individuals. Nigro constantly clarifies this in his search for an ever-original relationship between expression and rationality. Sentiment and reason, emotion and rationality are the extremes of human action which are transformed in his painting. They bring to life a message of freedom, which for him is the responsible indication of a new, possible world. A future society in which the drama and conflicts of existence are resolved in reshaped relationships between human beings.

Mario Nigro is certainly one of the great inventors of visual language in post-war Italy and his radical, ground-breaking position was already taking shape in the late 1940s. This was the time when Alberto Burri's material investigations, Lucio Fontana's multi-dimensional, experimental Spazialismo, Giuseppe Capogrossi's unmistakable sign and Emilio Vedova's free gestural expressiveness were all becoming clearly established. It is essential to refer to this context of the origins of his work, in order to understand the scope and uniqueness of his development, which in these years was already adopting other fundamental, ascertained ways of going beyond the formal investigations of the rampant post-Cubism of the time. It also went beyond the quintessentially Italian conflict between figuration and abstraction, and it locked directly onto the roots of the avant-gardes in an international perspective. Nigro chose to start out from the origins of non-objective experience and thus adopted some of the key references he intended to bring together in a new vision: Piet Mondrian's theosophical neoplasticism, in its absolute scanning of space, Wassily Kandinsky's expressive abstraction, in its relationship between colour and emotion, and Giacomo Balla's analytical dynamism, with its interpretation of spatial movement as an oppositive tension in psychic expansion. This led to a stunningly new vision which, in creating first a "spazio totale" ("Total Space") and then a "tempo totale" ("Total Time") aimed to reach to the very heart of existence. It did so not in descriptive but rather in universal terms, in order to create images capable of interpreting the drama of contemporary existence. This was a matter of continuity of relationships and the absence of confines: "What I'm interested in is rhythm and interaction, in a dynamic, continuous vision stripped of any visual centre in support and even of any links that lead the composition back into the confines of the support itself." Elementary forms and primary colours, lines and interweaving shapes are arranged in a search for a "total space" and a "total time" in visual modulations and variations, anticipating the reflections on the sign and colour that were to feature in the radical, Minimal trends of later decades.

From F. Pola, "Painting the 'Intimate Structure of Man' The Work of Mario Nigro: Expression and Rationality", in "Mario Nigro. Werke / Works / Opere 1952-1992", Kunstsammlungen Chemnitz, December 1, 2012 – February 3, 2013
IMMAGINE DELLA LUCE
Artisti della contemporaneità internazionale per Villa Clerici
Galleria d'Arte Sacra dei Contemporanei di Villa Clerici, Milano
12th May – 4th July 2012
Exhibition curated and Catalogue edited by Paolo Bolpagni and Francesca Pola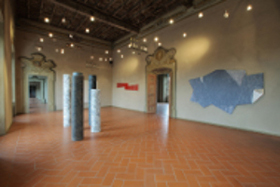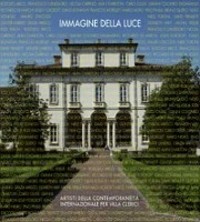 Photo Bruno Bani, Milano
"Image of light" is indeed an exhibition, with its own core theme and its own significance, created to open up a new potential horizon of knowledge by bringing twenty-three great names of contemporary visual creativity into a single place and making them interact and allowing their individuality to branch out. It is of course all of this, and yet it is also something more: it has been created as a meaningful journey that ventures through the spaces and identity – both physical and symbolic – of Villa Clerici, bringing with it a potential reinterpretation of the place through the "imagination" of the dimension of light, which is at once concrete and immaterial. A place that is not so much an exhibition space, like so many others, as a translation into action of an extraordinary vision: that of a possible reconciliation between art and spirituality, and indeed of an inevitable and mutual sharing and convergence of artistic research and spiritual needs, a highly relevant matter in this age.
"Image of Light" is thus an encounter between the identity of these spaces and the possible translation of their fundamentals into contemporary creativity which, in its extremely wide –ranging and diverse expression, has been approaching the dimension of light in countless different ways. The works on show, which have been chosen where possible together with the artist themselves, and which in some cases have been made specially for the occasion, aim to explore this polymorphic relationship between image and light in the contemporary world. The process is one of a surprising crossover, for it creates an interaction between different generations and diverse visual languages, from exponents of the neo-avant-gardes of the 1950s and 60s to the most recent research. On this journey, light acts a signifying medium of the work of art, which is at once linguistic and symbolic, but also a dynamic and naturing element, and an evolving identity that, in a changing perceptive experience, becomes a striving for knowledge and a concrete metaphor of freedom. The underlying idea of the exhibition is thus not that of a purely historical and chronological development, for it intends to show these extraordinary images of light as possible indicators of an experience of the absolute, which is always conceived of in relation to man. These dazzling thresholds of visions make this place a dynamic laboratory of inspiration and a meeting place of ideas.

From F. Pola, "Radiant Thresholds. Images of Lights in the Traversal of a Place", in "Immagine della luce. Artisti della contemporaneità internazionale per Villa Clerici", Galleria d'Arte Sacra dei Contemporanei di Villa Clerici, Milano, May 12 – July 4, 2012
ALAN CHARLTON. ULRICH RÜCKRIEM. NIELE TORONI
The Trajectories of Equilibrium
A arte Studio Invernizzi, Milano
13th December 2011 – 22th February 2012
Exhibition curated and Catalogue edited by Francesca Pola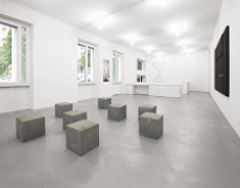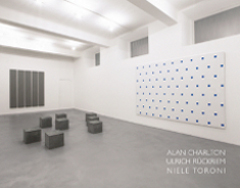 Photo Bruno Bani, Milano
Alan Charlton, Ulrich Rückriem, and Niele Toroni are three of the greatest exponents of a contemporary creative current that has striven since the 1960s to promote a significant reduction in visual language. Comparing their three forms of expression, each with their own distinctive individuality and yet all with this shared matrix, we can see a number of parallels in them, and it is these that are the hub around which this new exhibition revolves.
The exhibition that these artists have created for A arte Studio Invernizzi reveals how, each according to their own expressive identity, they have interpreted the volumes, architectural features, and main axes of this space. They do so not by taking one room each, but rather by interacting throughout the premises, thus creating a unique journey through their analogies and diversities. The three artistic languages that come together in this exhibition emerge not only through the creative autonomy of their constantly innovative identities, but especially through the intentional interaction between what they have created. In each room at least two of them are seen working together, adopting a process based on direct, sensitive interaction with the active body of the premises.

[...] The orthogonal hypothesis that emerges in the form of a spatial sequence shows how these artists do not work on the form of the work but on its internal disposition of masses, which constantly relates to what the work is made of (materials and instruments) but also with what is around it (solid and void, proportion and equilibrium). Their concept is an inseparable part of its rendering as a work. This, for example, is the fundamental difference between their work and the serial suppositions of Minimal Art and its "primary structures", for the latter are thought of as a pure project, which can be indifferently created by an absent auteurship, and it is no coincidence that, in turn, they are the root and origin of conceptualism. Any purely conceptual hypothesis is indeed totally lacking in the works of Charlton, Rückriem, and Toroni for theirs is a concrete sculptural and pictorial idea, which is offered as a hypothesis for the creation of a potential relationship between the individual and the cosmos. This emerges in the single, minimal gesture – painting grey, cutting stone, leaving a brush impression – that can potentially be repeated in its dimension as a project, but that can never be reproduced in its factual and relational form. In this positive and constructive, relational and substantial, rational and all-inclusive vision of theirs, we might well refer to them as classics of modernism.

From F. Pola, "Trajectories of equilibrium", in "Alan Charlton, Ulrich Rückriem, Niele Toroni. The Trajectories of Equilibrium", A arte Studio Invernizzi, Milano, December 13, 2011 – February 22, 2012
MANZONI. AZIMUT
Gagosian Gallery, London
16th November 2011 – 4th January 2012
Monograph edited by Francesca Pola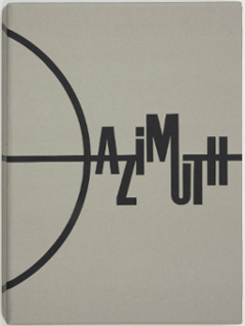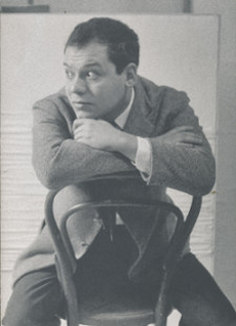 "You can't take off from the earth running or jumping; you need wings"

It is this metaphor of flight that Piero Manzoni used to express the need for a total transformation of creative vision—flight beyond the established boundaries of the artistic, toward new horizons capable of responding to the altered perspectives of the contemporary world. Though the context he was referring to was the late 1950s and early 1960s, his is an attitude that appears flagrantly topical today. The passage comes from his text "Libera dimensione" (Free dimension), published in the second and last issue of the magazine Azimuth, which he founded in Milan with Enrico Castellani in September 1959. A few months later, in December, also in Milan, the two artists opened Galleria Azimut, a self-managed exhibition space where they organized exhibitions featuring the most avant-garde international work. Azimuth (the magazine) and Azimut (the gallery) were the epicenter of a creative upheaval that, within a very brief time span—from the publication of the magazine's first issue in September 1959 to the final show at the gallery in July 1960—drew together, catalyzed, and initiated a vast series of new artistic undertakings.
Azimuth was not the mouthpiece of an established group or movement with a defined program, but rather a grand international catalyst for multiform experiences: an affirmation of an extreme avant-garde that brought together different possibilities for new art, from the radical cancellation of the image to experimentation with new materials, from moving beyond the pictorial surface to a new idea of sidereal space, from luminous utopias to conceptual roots. The idea was not only to modify the artistic work, but also to create ways of relating to it that would connect it to a world in dynamic evolution, that thrived on speed and efficacy of communication. Clearly there was a neo-avant-garde dimension, the magazine serving as a place of theoretical explication and creative stimulus, but it was also a new way of positioning oneself within the art system: the goal was to establish, through the operation of an independent and international magazine and gallery, a new network of relationships.

From F. Pola, "Manzoni. Azimut", Monograph published on the occasion of the exhibition, Gagosian Gallery, London, November 16, 2011 – January 4, 2012, Gagosian Gallery, London, in collaboration with Fondazione Piero Manzoni, Milano
MACRO roots of the Contemporary 2009 – 2011
Curated by Francesca Pola
From 2009 until 2011 Francesca Pola was the Curator of MACRO (Museo d'Arte Contemporanea di Roma), under the director Luca Massimo Barbero: in this role, in particular, she developed the experimental project "MACROradici del contemporaneo", extensively reviewed by both the Italian and international press (on more than one occasion on the part of the "Financial Times"). The aim of this project was to 'discover' and present historical protagonists of Rome's art world by means of formerly unexhibited nuclei of works and documentation shown in innovatory ways (with the use of touchscreens and showcases, with which the visitors were invited to interact, films and video projections).
MACROroots of the Contemporary
BICE LAZZARI
The balance of the space
MACRO Museo d'Arte Contemporanea, Roma
25th June – 30th October 2011
Exhibition curated and Catalogue edited by Luca Massimo Barbero and Francesca Pola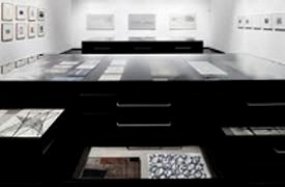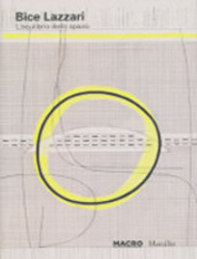 Photo Altrospazio, Roma
Lazzari's work is an active root that crosses the 20th century with its constant, subtle presence, flanking big movements and trends with a highly personal and distinguished language, but also conveying inevitable moments of constant renewal and experimental radicality. Her first abstract works are of a surprising quantity and chronology, already in the 1920s: very early and fundamental for the originality of her balanced, rational utopia. Lazzari chose abstraction when very young and quite independently. She immediately made it into a very personal language, which isolated her from any possible current, in works made up of fluctuating elements and suspended lines, which activate the spatiality in a surprising and already mature freedom of signs and colour.
The origin of this progressive vision must be contextualized in her place within a surprising generation of Italian artistic born between 1890 and 1910, who after an initial creative period marked by the adoption of the abstract between the wars, renewed their own positions in the postwar period, opening up to a new start that was both artistic and ethical, as an alternative to the neo-Picasso post-cubism then dominant in Italy's visual culture. One thinks for example of artists like Lucio Fontana and Fausto Melotti, who in precisely these years, moving among the active inheritance of rationalism and futurism, found a second complete and extended maturity. Like these great masters and founders of a new, non-figurative grammar, Lazzari resumed her choice after the second world war, re-presenting her language, which is a kind of 'third way' to abstract inflection: a suspension made up of repetitions, suspended balances, chromatic signs and forms that design the space in a constant, controlled tension.

From L.M. Barbero and F. Pola, "Bice Lazzari. Notes for a new reading", in "Bice Lazzari. The balance of the space", MACRO Museo d'Arte Contemporanea, Roma, June 25 – October 30, 2011, Marsilio, Venezia
MACROroots of the Contemporary
Fabio Sargentini's ATTICO 1966-1978
MACRO Museo d'Arte Contemporanea, Roma
26th October 2010 – 6th February 2011
Exhibition curated and Catalogue edited by Luca Massimo Barbero and Francesca Pola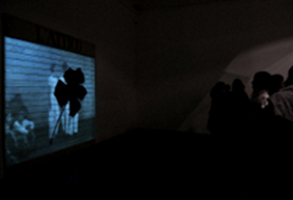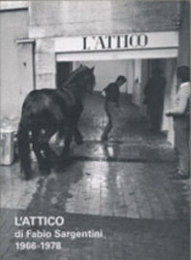 Photo Altrospazio, Roma
Retracing the first thirteen years of Fabio Sargentini's Galleria L'Attico is an adventurous journey through images, places art forms, personalities, and cultures that came together and intermingled in the 1960s and '70s, at a time when Rome was authentically and radically experimental and international. In this exhibition and in the accompanying catalogue, we can see L'Attico as a many-faceted place of fundamental "roots" which were of the most stunning prolificacy and present-day relevance: a space that was also a vision and, in its unique all-encompassing identity, one that gave rise to seminal ideas decades before the cross-fertilising, spectacular, inter-cultural dimension that has become so much a feature of the present-day world's free interchange with the universe of images.
It is not just historical reasons that encourage us to strive for a reinterpretation of that exhilarating period, for L'Attico is a symbol and synthesis of an age we once again find ourselves in today. This is thanks to the active and intelligent inquisitiveness of Sargentini, who assimilated in real time a whole series of stimuli and signs that were pointing towards a new vision of the world. A vision that has now found its own fulfilment and natural development in our contemporary reality. In other words, L'Attico in the present tense, without needing to set up an anthological exhibition or a retrospective view, which has always been alien to Sargentini's approach. His personality and his life are inextricably bound to that of his exhibition spaces – or rather, to his "creative spaces" – and to the ground-breaking cultural shocks that they brought about in the art world.
L'Attico, therefore, as an emblematic space, at once physical and mental, that offers a constant, free, and rapid response to the present, whit its inexhaustible and never repetitive activism, forever striving to overcome not only conventions, genres, and language, but also to go beyond its own achievements and successes. And is it here that we find the uniqueness and enormous topicality of this experience: Sargentini's constant identification with his own spaces and with the artists who over the years were called to bring it to life, always overstepping the threshold of the future and seeking out what might be closets to it.

From F. Pola, "Spaces and actions of nimble creativity", in "Fabio Sargentini's ATTICO 1966-1978", MACRO Museo d'Arte Contemporanea, Roma, October 26, 2010 – February 6, 2011, Electa, Milano
MACROroots of the Contemporary
Rome: we were the Avant-Garde
MACRO Museo d'Arte Contemporanea, Roma
23th January – 5th April 2010
Exhibition curated and Catalogue edited by Luca Massimo Barbero and Francesca Pola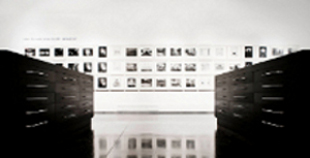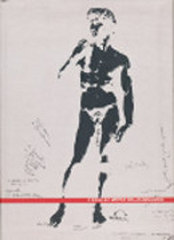 Photo Altrospazio, Roma
"Contemporanea" is now considered to be one of the most important exhibitions of the twentieth century. In 1973 it was the first great international exhibition on an interdisciplinary and multimedia nature to provide an overview of the art world as it was. Whit its ten sections (art, cinema, theatre, architecture and design, photography, music, dance, visual and concrete poetry, artist's book and records, and counter-information), the show was designed to portray the anthropological complexity of the contemporary art world, in all its different expressions in the various sectors of art and communications. As had already been the case with the other large exhibition put on a few earlier, in 1970-1971, at the Palazzo delle Esposizioni in Rome ("Vitalità del negativo nell'arte italiana 1960/1970"), the driving force behind the promotion, organisation, and cultural coordination was Graziella Lonardi Bontempo's Incontri Internazionali d'Arte, while the concept came from the curator, Achille Bonito Oliva. The place were the exhibition was held, the underground car park at Villa Borghese, had just been built and not yet been opened, and it was secured thanks to Lonardi's shrewd and determined efforts. This was a clear sign of the highly experimental and unconventional nature of the event. The importance of "Contemporanea" is not, however, exclusively, nor even primarily retrospective, but rather that of the innovative and proactive significance of its overall vision. Today, in an age characterised by contaminations and interaction between art forms and culture, we can see how relevant it still is, and not just in purely artistic terms. The idea was to occupy a single space and create a clear, transversal itinerary through all forms of contemporary communication, involving the public in an unusual and spectacular journey and bringing about wide-ranging cognitive processes and cultural learning. In other words, the plan was to produce a sort of deviation by introducing a different exhibition format that was based on dialogue and interaction rather than on division and a separation of disciplines. These were shown in the most over manner, and in the terms and forms of their interrelationships.

From F. Pola, "Contemporanea. The culture of dialogue and action at the roots of today", in "Rome: we were the Avant-Garde", MACRO Museo d'Arte Contemporanea, Roma, January 23 – April 5, 2010, Electa, Milano
MACROroots of the Contemporary
Cesare Zavattini unknown
MACRO Museo d'Arte Contemporanea, Roma
13th October 2009 – 10th January 2010
Exhibition curated and Catalogue edited by Giorgio Mastinu and Francesca Pola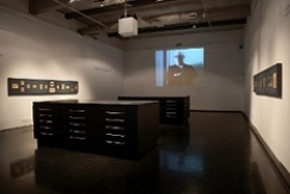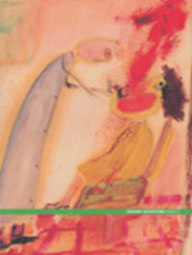 Photo Bruno Bani, Milano
Both historical and metahistorical, Cesare Zavattini was intensely and emotionally part of his own age, while constantly transcending epochs and generations in his ceaseless intuitions and extraordinary visionariness. And still today his figure, one of the most complex and multifaceted of twentieth-century culture in Italy, shows this to be true. This exhibition explores a new area of investigations, for the first time showing the public a stunning and still extraordinarily up-to-date-core-collection of his paintings from the early 1940s, which in terms of both quantity and type gives the most consistent and diversified overview ever, going back to this intensely seminal period for his entire artistic career.
The provenance of the collection comes from the relationship that Zavattini started up in the late 1930s with Carlo Cardazzo, the collector whose Venetian salon was in those days a sort of intellectual coterie frequented by the leading avant-garde writers and artists in Italy. In 1942 Cardazzo opened the Galleria del Cavallino in Venice, where the following year he held the "Il gioco del Paradiso" exhibition, of which Zavattini was one of the masterminds. This showed drawings and paintings by Italian writers, including himself, Dino Buzzati, Antonio Delfini, Eugenio Montale, and Leonardo Sinisgalli. On the occasion, Zavattini won the Primo Premio del Cavallino award and, with a view to launching him as a painter, Cardazzo and his colleague Vittorio Emanuele Barbaroux signed a real contract (which lasted until 1946) with the author, under the terms of which the two gallery owners would receive his entire artistic production. There are about two hundred works – pictorial vision that constitute a veritable counterpoint in images to a key period in Zavattini's creative life. It was a time when, through the tragedy of the Second World War, he matured a civic conscience which was so absolute that it could not admit the slightest separation between art and life. This led to his shouldering his artistic responsibilities as a means to achieving positive modification of society in its maieutic and cognitive functions.

From F. Pola, "Flagrancy and Action. Cesare Zavattini's painting of the present", in "Cesare Zavattini unknown", MACRO Museo d'Arte Contemporanea, Roma, October 13, 2009 – January 10, 2010, Electa, Milano
LABORATORIO SHIFANO
MACRO Museo d'Arte Contemporanea, Roma
26th October 2010 – 6th February 2011
Exhibition curated and Catalogue edited by Archivio Mario Schifano, Luca Massimo Barbero, Francesca Pola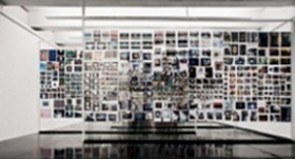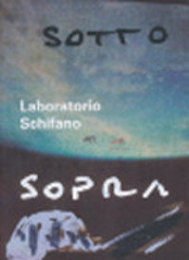 Photo Altrospazio, Roma
The Macro exhibition thus goes back through Schifano's creativity in a way that has never been so extensive, focused, and complete, allowing us to discover its origin and the seminal points in his complex artistic vision. We are taken into his "Laboratorio" of the imagination, where he took photos and samples, retouching and giving titles to hundreds of visual impressions with Polaroids, photos, colour photocopies, and sheets of notes. It is a thrust deep into the heart of the complex, transversal identity of Schifano's creative process, has he moves forward through assimilation and transformation, by means of vision and references, and reiterated and intuitive modifications. It is a sort of "labyrinth" in which figures, iconographies, techniques, and languages are constantly in pursuit of each other, interweaving and overlapping. We are taken on a journey in which images come to life, concentrating in particular on the period starting in the 1980s, when it was this physical interaction between painting and photography that became the key driving force in Schifano's imagination.
[…] True to the extraordinary contemporary relevance of his trans-media vision, Schifano considered photography as the means and end of exploring the new languages and principles of information and communication. In this case he expressed it in photographs he manipulated through painting and their ever-varied interweaving and repetition. By expropriating and reinterpreting the popular imagination, Schifano thus interpreted the new age of mass communication, and he conveyed it in an image which, with the most extraordinary critical and precursory spirit, conveyed the mechanisms of globalised relationship in our visual culture. Schifano's first rare and sporadic experiments with photographs date back to the late 1960s, when he intervened by colouring some parts of his black-and-white photos, including some of his television screens, from which his TV landscapes (Paesaggi TV) emerged. It was however only in the 1980s that Schifano started systematically using first Polaroids and then small-format colour photographs as a genetic breeding ground and conceptual laboratory for his painting. Here he experimented, trying out different designs and colours, bringing together and deforming figures and landscapes. During the 1990s, while his new imagery was taking shape, he also started adopting further linguistic solutions, with the transposition of photographic images and colour photocopies from the media, which he manipulated even further, and lastly he simply chose and framed images taken from photos.

From L.M. Barbero, F. Pola, "Laboratorio Schifano: a labirinth of images", in "Laboratorio Schifano", MACRO Museo d'Arte Contemporanea, Roma, October 26, 2010 – February 6, 2011, Electa, Milano
1959-1969 EXPERIMENTAL TURIN
A history of the chronicle: the system of the arts as avant-garde
Sala Bolaffi, Torino
19th February – 9th May 2010
Exhibition curated and Catalogue edited by Giorgina Bertolino and Francesca Pola
Project sponsored by Regione Piemonte Assessorato alla Cultura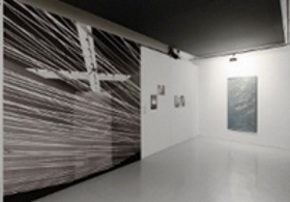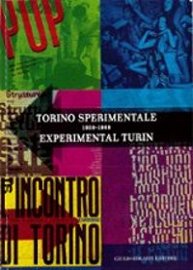 Photo Bruno Bani, Milano
"Experimental Turin, 1959-1969" aims to draw the audience's attention on a crucial period in the history of Turin's artistic and cultural milieu offering a chronological, documentary reconstruction of the events occurred in one of the more fecund decades following World War II. Grounded on historic research envisaging in-depth study of primary sources, including recordings of interviews given by some of the scene's protagonists and literature review encompassing specific material published in recent years, the exhibition sheds new light on Turin's creative landscape during the 1959-1969 decade. In this context, the differing artistic contributions and cultural orientations conferring dynamism to the image of the city and representing a precious heritage to present-day Turin, have been brought into sharp focus. "Experimental Turin, 1959-1969" was conceived as the biography of a city. Therefore, although the title may suggest many other aspects deserving scholarly research, Turin's cultural and artistic life over the ten-year period is the main subject of this exhibition. In this perspective, key figures of the time as well as individual or collective experiences and even the more relevant artistic developments may assume new significance as part of a complex and articulated scene. The city's cultural and artistic context, true protagonist of the show, has been presented through a kind of 'live' archive offering insights into yesterday's chronicle that has already turned into history yet discloses the roots of today's Turin, and thus represents memory.
In "Experimental Turin, 1959-1969", the artworks on view are shown together with other meaningful things of different nature. These include 'originals', which are physically exhibited on walls or in specially made showcases with drawers, and digital images of catalogues, book pages, magazines, letters, invitations cards, posters or photographs, which are available on touch screens as well sound and video recordings. Rather than mere supplementary material accessioned through technology, these images or recordings are "object of memory" displayed in a design to actively involve the viewers in an engaging experience throughout a flexible exhibition path, suiting different needs and providing layered information about the exhibition subject. Underpinning this multi-disciplinary and multi-media approach is an interpretive strategy aimed at enabling access to the images of an interactive archive, library and laboratory embedded in the exhibition path, so that audiences may grasp key concepts and relevant symbolic representations, including the principle lying beneath the ordering of the things displayed, whether physically or virtually: taken as a whole, the exhibit is a multidimensional representation of the fertile, irradiating world of visual arts at the centre of a complex system of "bodies" orbiting around it.

From G. Bertolino, F. Pola, "Torino sperimentale 1959-1969", Sala Bolaffi, Torino, February 19 – May 9, 2010, Giulio Bolaffi Editore, Torino
ATANASIO SOLDATI
Le mie evasioni dall'astratto
Lac, Lagorio Arte Contemporanea, Brescia
12th December 2009 – 16th February 2010
Exhibition curated and Monograph edited by Francesca Pola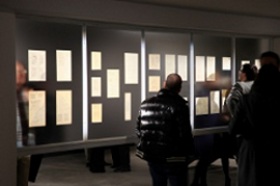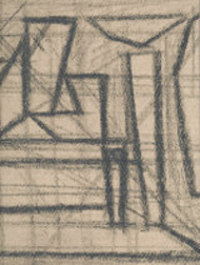 Photo Bruno Bani, Milano
Atanasio Soldati, an artist whose creative parabola was a complex one, constantly expressed by way of a responsible and authentic vision of creating art. In forming part of a generation which had lived through both World Wars, in passing through these tragic experiences of the XX century he never swayed from following an idea of an anticonventional abstraction that did not lack an authentic moral content, in his conviction of a founding of art as being both the common denominator and the reservoir of myths to be shared, cherished and nartured in a mutual recognition of solidarity.
This volume stems from an investigation of the artist's activity and by way of approximately one hundread works ranges from the 1930s until his death. It interlaces painting, drawings, temperas and watercolours in such a way as to provide us with the multiformity and complexity of Soldati's figurative world. From his initial rigorous and "cold" abstractions, the surreal and constructive complications and up until his translation into musical and fluid expansion of forms and colour, the reader will be able to follow the artist's creative travels with which Soldati intended to recreate that interior, spiritual correspondence between human beings that was the cornerstone of his entire artistic and biographical adventure.
In a hitherto unpublished letter written to his friends Cesare Zavattini at the beginning of the 1940s, the artists condemns a generalized incomprehension regarding his work, the aim of which was to supersede the canonical language of abstraction while, at the same time, affirming his intention to substantiate the non-figurative image of an authentic human and moral property that went beyond whatever superficial intellectualism: "Yet again no one has understood my escapes from the abstract. […] I continue to shout in the desert. I've already begun some studies here in Milan in order to free myself from forms that you call intellectual".
It is precisely this enduring intention to take painting beyond a purely formal investigation, to make it an authentic place of human participation and solidarity, that we find in his numerous works on paper in such a particular and extraordinary way. These are drawings in which variations and studies "crowd" the page, sometimes interpolated with writings, aphorism and reflections, on the small format of the page concentrating Soldati's entire universe of feelings translated into images which are painted, drawn and "spoken". In gaining experience of this "visual diary" of his which coincides with his creative laboratory, presented here with an exceptional wealth of variety, it is possible to follow the genesis and unfolding of the artist's work together with the moral vision of his painting: that of his steadfast tension for an art which was not an end in its own right but became a way of relation that was authentically and profoundly human.

From F. Pola, "Atanasio Soldati. Le mie evasioni dall'astratto", Lac, Lagorio Arte Contemporanea, Brescia, December 12, 2009 – February 16, 2010
GIANNI COLOMBO
A arte Studio Invernizzi, Milano
4th December 2007 – 13th February 2008
Exhibition curated and Catalogue edited by Francesca Pola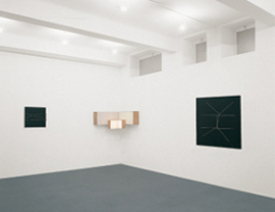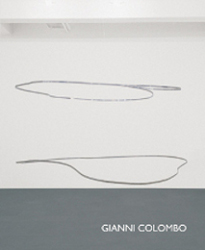 Photo Paolo Vandrasch, Milano
This catalogue essay for an exhibition devoted to Gianni Colombo that seeks to give an account, illustrated by highly significant examples of his work, of his complex creative career, is intended, over ten years after his death, to highlight the importance and power of his message and the cogent reasons why he is regarded as a leading figure in the art of the second half of the twentieth century. As the distance in time allows us to identify and focus on the physiognomy of the historico-artistic processes that have intertwined in the last fifty years, the centrality of the problems raised by Colombo in his work emerges increasingly clearly and, together with it, the relevance still today of his creative solutions.This exhibition, therefore, offers many interesting features: not only is it a historically precise presentation of a number of his most outstanding works, which may be seen in relation to each other and also with regard to the contexts in which they germinated, but it also emphasizes the fundamental ethical and metahistorical intentionality of Colombo's output. Constantly striving for the modification of the status quo, it seeks to leave its mark on the present, with a view to creating a better future, thus demonstrating that art may effectively intervene in the real world.
Colombo conceived each of his works as the formulation and hypothesis of experience, as the possibility of subsequent and unforeseeable actions and as the locus where the intentions and responsibilities take shape, allowing the spectator to experience a spatio-temporal entity that is different from the given one - it is, therefore, an area of opportunity or a dimension of the future. All of his oeuvre is animated by this utopian tension, which is seen as the possibility of an existence extended to areas, dynamics and acquisitions that are concrete and positive, especially from the cognitive and ethical points of view. This aspect, however, was never conceived in mystical or metaphysical terms, but had as its main reference point the laically corporeal and physical dimension of man regarded as sentient and rational relationality. By coming into contact with Colombo's works we become participants in this different reality that is utopian but concrete - indeed, one could say utopian, insofar as it is concrete in a potential but feasible way - and make choices that are obliged by the very configuration of the work to be conscious. In this sense, it is possible to describe Colombo's utopia as a concrete one, realized potentially for the space and time of our relationship with the work, whether this be an object or environment, but it is always linked to our physical experience and the way we form a corporeal relationship with it.

From F. Pola, "Living the Future. Gianni Colombo's Concrete Utopia", in "Gianni Colombo", A arte Studio Invernizzi, Milano December 4, 2007 – February 13, 2008
TOTI SCIALOJA
Time as an absolute gesture
Galleria Open Art, Prato
17th November 2007 – 4th February 2008
Exhibition curated and Monograph edited by Francesca Pola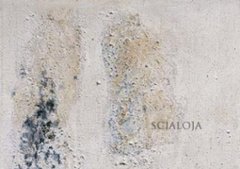 By comparing the different stages of Scialoja's very varied artistic career with an imaginary journey, guided by his writings, through his work, this book seeks to illustrate the simultaneous presence in his paintings of, on the one hand, expressive heterogeneity and a never-ending need to experiment with new ways of varying materials, techniques, formats and so on, and, on the other hand, the continuity of the poetic purpose underlying his oeuvre, although, from time to time, this was renewed. Thus the artist had a constant desire to relate to painting as a gesture of reality and the emergence of the present time.
The output of Scialoja – one of the leading exponents of the Italian and international art scenes after the Second World War – was characterized, from the 1950s onwards, by his distinctive variation on Action Painting. Unlike the American artists, his main counterparts in a continuous and fruitful dialogue, he rejected the gesture regarded as an occasion for subjective expression, seeing it instead as a possibility, through his artistic practice, of participating in the infinity of the single historical moment as a fragment of collective existence: it was an absolute gesture that became a trace of his age. And it is this element intended to record time that forms the axis of continuity of his work, as is also attested by his "Giornale di pittura", the diary that accompanied, especially in the early decades of his career, the elaboration of his line of inquiry.

The need to reconcile these two contrary perspectives – that of the continuous changing of Scialoja's artistic coordinates and that of the substantial extension of the sphere of investigation itself – is also evident in the reflections that, in written form, accompany the artist's different creative periods, above all those to be found in the "Giornale di Pittura": "I have, in fact, the impression that, in this diary, I always say the same thing, repeat the same ideas, and rediscover the same truths." In it, there is the same complexity of references and the same correlation between successive periods of Scialoja's work: often he anticipated ideas that would only be given visual form subsequently, or he discussed forms of artistic expression that he had tried out previously in order to inquire further into the motivations and values underpinning them. It is as if the artist, in these pages, as in his painting, wanted to establish a relationship with time that appeared to be absolute and freed from the condition imposed by a linear progression, and could find its basis in the awareness of action – of the gesture, that is – as an opportunity for the elimination of the distance between the ego and everything else.

From F. Pola, "Toti Scialoja. Time as an absolute gesture", Galleria Open Art, Prato, November 17, 2007 – February 4, Gli Ori, Prato 2008
DADAMAINO
I fatti della vita
A arte Studio Invernizzi, Milano
7th October – 25th November, 2005
Exhibition curated and Catalogue edited by Francesca Pola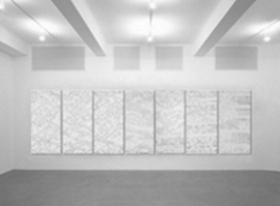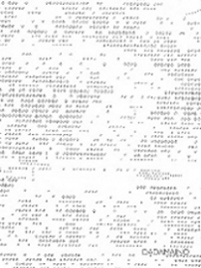 Photo Paolo Vandrasch, Milano
"At a certain point I thought I would make a single large work - of which I know the date when I started it, 1978, but not when I'll finish (and I don't even pose this problem) - composed, for the moment, of hundreds of works: from the microcosm to the macrocosm, if you will, without presumption, but as existence is. This is a microcosm that poses innumerable macroscopic questions regarding the meaning of life, of history, if it has a meaning; and if it's nonsense, we should attempt to find a meaning in the nonsense."
Thus, in 1980, Dadamaino described the genesis and meaning of her most recent cycle of works, entitled "I fatti della vita (The Facts of Life)", shown to the public for the first time in the previous year. The works on display in this new exhibition belong to the artist's same creative series, characterized by the intermittence and fragmentation of the sequence of the same sign and by the explicit intentionality of the new and more dramatic relationship with existence. They are characterized by double titles, linking "I fatti della vita" to the cycle immediately prior to it, "L'alfabeto della mente (The Alphabet of the Mind)", in which each of the different 'letters' filled the whole surface of the single sheets with sequences of signs.
The opening of the sign and its progressive dispersal - not only potentially infinite, but also less and less controlled - has in these works an explicit function relating to the questioning of the meaning of the universal coming into being. They express the tragic awareness of the impossibility of knowledge, together with the steadfastness of the obsessive recording of the minimal fragments of existence, which, thanks to the experience of the limit, focus our attention on our own finiteness through the silent finiteness of the work, so we can recognize we belong to the infinite event of being.
Despite their apparent similarity to oriental meditative writings and practices, in these works Dadamaino realizes creative tension - which is epistemological in nature rather than mystical or contemplative - in relation to the foundations of knowledge, as has already been amply argued in previous critical readings of the artist's work. Self-identification is the key to the noetic foundation of Dadamaino's work: while we obtain experience of the work, its time of existence coincides with ours and we find ourselves immersed in its visual flux. In their pauses and returns, "I fatti della vita" make tangible this elusive dimension of time, which the artist describes as its "materialistic eternity." It is also in this sense that we should interpret the transition to a fresh environmental tension undertaken by these new accumulations: the path is enriched by the articulation of the reading according to an inner time (individual, not subjective), which, amidst the emergence of different tensions and energies becomes the expression of a universe coming into being. In this discontinuous, fragmented, potentially infinite rhythm one may recognize at least part of the legacy of the "emotional dynamism" deriving from Boccioni that seems to make these works resemble the Futurist painter's "States of Mind"; this forms a continuum with the neo-avant-garde tension constantly tempered by an existential undertone that has always characterized Dadamaino's artistic career.

From F. Pola, "Letters from Infinity, under the Banner of Freedom", in "Dadamaino. I fatti della vita", A arte Studio Invernizzi, Milano, October 7 – November 25, 2005
MAURO STACCIOLI IN CALIFORNIA
Monograph edited by Francesca Pola
Istituto Italiano di Cultura, Los Angeles 2002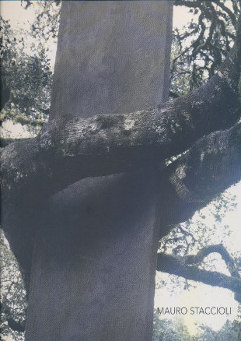 Fifteen years after Mauro Staccioli realized his first installations for the La Jolla Museum of Contemporary Art, there are numerous reasons for undertaking a study of his activity in California: it is not only the desire to document his work from a historical point of view, but also the need to critically contextualize in a broad perspective the different periods in which the Italian sculptor worked in this places, and to describe their relationship with his career as a whole and the specific contributions that they have made to this.
The interpretation offered here is intended to confirm this unity of poetic purpose and the specific nature of Staccioli's California experience, with its focus on the freedom of the artist's "sign" and the spatiality of the physical and psychological articulation of the sculptural work. The precursor of this dialogue with the situation in California, which still continues today, may be identified as the experiences of Celle and Amherst, the places where the opening of the "sign" – which was subsequently to characterize all Staccioli's California sculptures – first took place. The different ways in which they were carried out will be described in an analysis of the various installations divided on the basis of the investigation of the individual contexts and the specific motivations, which are essential elements for an understanding of Staccioli's creative authentic genius.

Staccioli's sculpture is, in fact, engaged in a dialogue consisting of questions and possible answers, with its site. An attempt could be made to classify through images the numerous ways – often interacting with each other – of interpreting the sites: crossing, polarization, emphasis on the threshold, organic dynamism, size as proportion, the meeting-place of the finite and the infinite, the interdependence of form and life, the communicative vocation through a very forceful artistic language thanks to the strong semanticity of the "sign", the intentional choice of non-industrial materials, and the sculptor's physical presence while the work is being executed, which is an excellent example of the way he takes responsibility.
These are characteristic that place Staccioli's work in the privileged locus of his personal creative action, on the borderline separating the image from the object, on the threshold of a poetic practice of the socially modificatory action in which criticism has a constructive logic and is the generator of thought. Staccioli's sculptures appear, at the same time, geological forms of the present day, burdened with our past, and archaeological vestiges of our future. Nonetheless, Staccioli does not work with the fragment of the artifice, but rather with the persistence of ideas: his works are constructed thought.

From F. Pola, "Mauro Staccioli. Constructing thought", in "Mauro Staccioli in California", Istituto Italiano di Cultura, Los Angeles 2002